My other Rabbits

I have collected porcelain, ceramic and glass rabbit figurines for many years. The collection has been limited to rabbits that look "real"
Here I'll share some of them with you here.
These are high end Porcelains from some of the finest manufactures across the globe. Many are very rare and very early in the production.
I have decided to let a few go. Prices are marked in Green: shipping and insurance is extra. Sorry no international sales.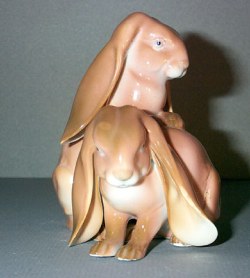 $250

These English Lops were found at an auction in 1978. I did not learn who the maker was until 2001 The German firm of Galluba and Hoffman about 1910.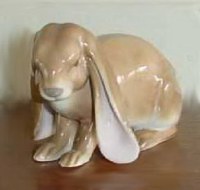 After all these years another Galluba and Hoffman has been found! $150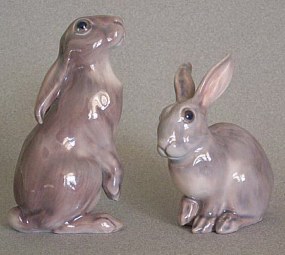 $175 each

Dahl Jensen of Denmark designed some of the most detailed animals and birds during his lifetime. These are two of the three rabbits he designed and date from about 1960. Photograph show the actual size.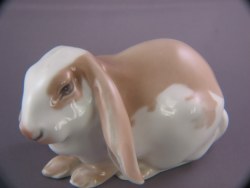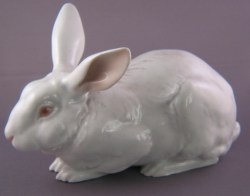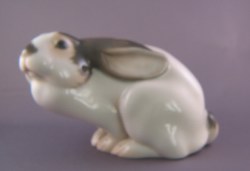 C1925 $250 c 1900 $500 c1925 $250

Other Dahl Jensen rabbits made while at Bing and Grondahl. The center rabbit carries Dahl Jensen's impressed signature .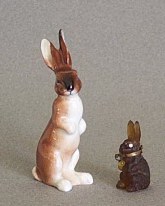 Images show the figurines about actual size. Glass rabbit charm $125
Royal Doulton Rabbits: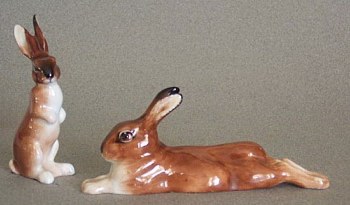 Royal Doulton rabbits the upright rabbit is only 2 1/5 inches tall The Glass rabbit shown in the upper photo is only 1 1/8 inch tall.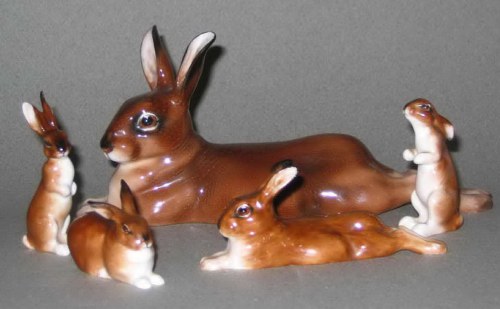 The Doulton gang a complete set of the small "K" series and one from the larger H series.
"K" series $100 each

H series $100

Rabbits by Hutschenreuther :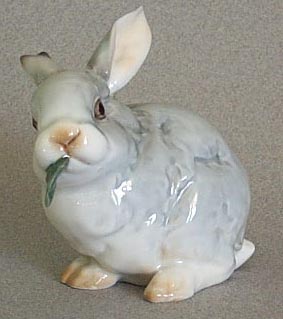 $75 c 1930 c2000 $50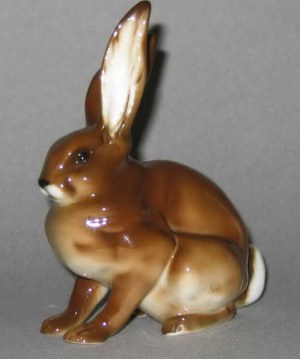 c 1930 $75

LLadro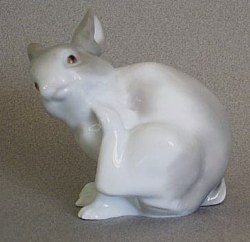 Rare Lladro Scratching rabbit $450
Royal Copenhagen: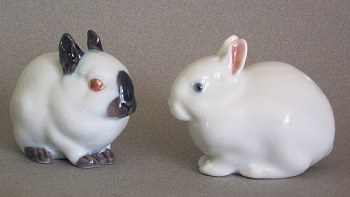 Two color variations from Royal Copenhagen These are about the size of a 2-3 week old Mini Rex kit. $50 each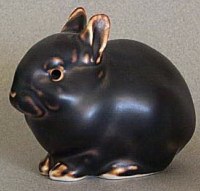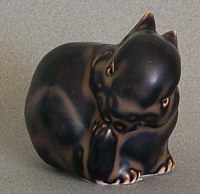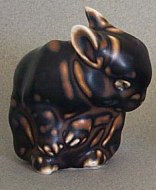 $100 each

A set of Stoneware rabbits from Royal Copenhagen. These same molds were used to produce a variety of porcelain rabbits . I guess we could call these Otters.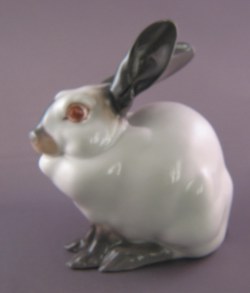 The Large version of the Royal Copenhagen Himalayan.
$200

An actual size group shot to give you an idea of the size scale
Augarten : Royal Vienna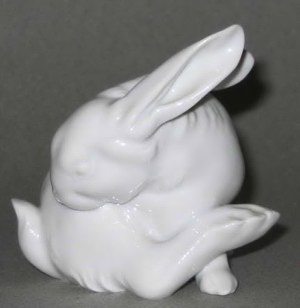 c 1936
$ 50 small chip on foot
Augarten is probably best known for a series of 8 figures depicting the Spanish Riding School horses and riders
Rosenthal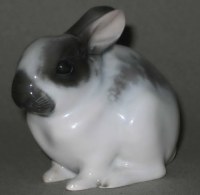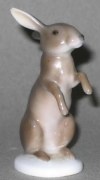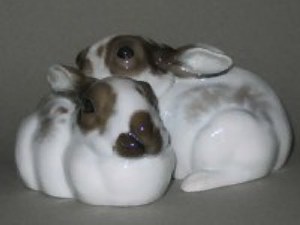 humm broken Sable? $250 $100 These two are nearly twice the size of the other brokens $400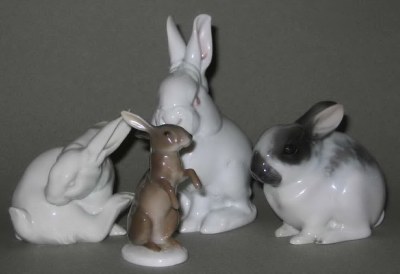 Hiding in the back row is a Rosenthal by Theo Karner one of Germany's premier artists from the early 1900's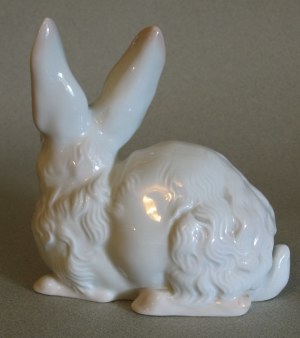 $250
A very interesting Rosenthal from about 1930.. note the long coat around the neck and rump Resembles a Double Maned Lionhead. signed by artist Rohring .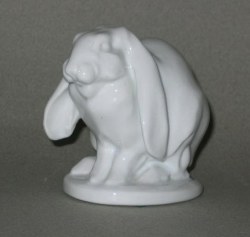 $100
German made.... classic English lop type.