Welcome to The Iris Patch
|
Mini Rex History
|
The Boys
|
The Girls
|
Show Time
|
Our Sale Page
|
Learning
|
Mini Rex Memories
|
NMRRC Turkey Awards have ended
|
What to take with you to an ARBA Convention
|
My Other Rabbits
|
The Easter Bunny
|
My Favorite Links
|
Valencia Waffle
|
Alaska
|
Photography and Art
|
The Turkey awards are no more.

They were fun while it lasted.

Report 2010:

Distorted has been reported missing. For some unknown reason Distorted failed to make her expected appearence at the 2010 Convention. In 2009 she went home with the winner of the 2008 Turkey award so there is fear that Distorted may have met a similar fate as "turkey 2008".

RIP Turkey 2008.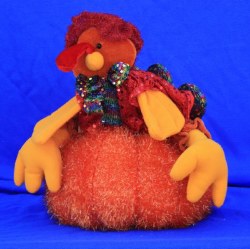 Eye witness reports that little turkey 2008 was brutally beaten shortly after the 2008 Banquet. Witnesses saw him kicked and stomped as he was getting off the elevator. The brutal beating continued thru the night. His beaten a battered body left behind as the perpetrator and his entourage left the scene. What kind of person beats a little defenseless "turkey" ?

2008 saw a bumper crop of Turkeys:

Judy Press, two of her torts changed sex, Brad Edmondson, his Sable Points changed sex right after he sent in the entry. Linda Tripp, yep you guessed it one of hers changed sex after making the entry. Sandy Lowry... oh gee was Joel's little daughter upset that her lunch was squashed. Maple Kelly they were wondering why the Castor Junior class was short 15 rabbits, the carry tickets were in her pocket.

2007 Turkey Awards:

Grand Turkey winner: Sue Monahan for her Chocolate Junior Doe who presented her with a litter Wednesday morning. ( just one more thing to check for before leaving home) Two weeks later at a show in Maryland one of her "does" was sent off for having the wrong "plumbing"!

2007 Honorable mentions: Eric Stewart (again) for an Otter doe who happened to turn into a buck! Pat Vezino who for 2 years in a row entered a junior doe only to find out before judging that they had turned into bucks. And our illustrious Judge Eric Bengston who after being introduced to Distorted, her story and being photographed with her during Monday's judging, told us on Tuesday he did not know who Distorted was. Our youth winner Sara Compart for trying to tell us that a molting Tort was like a broken without the white. The youth really showed up the adults, every rabbit was sexed correctly!

2007 for the tidy sum of $410 Distorted will be spending a year in District 9 so watch for her at a show near you.

Since the beginning of the Mini Rex Club we have poked fun at ourselves for one thing or another. Remember anyone can win one of these awards!

The List has included:

Golden Turkeys: Entering a rabbit as the wrong sex.

Winners include: not all of them but some. ( humm do you see a pattern there?)

Monna Berryhill (she was a judge back then)

Mike Avesing

Bobby Walker twice!

Karen Heintz

Eric Stewart ( 2005, 2007)

Janis Fossati (199?, 2007)

Pat Vezino ( 2006, 2007)



Path Finder: for those who keep getting lost:

Linda Thompson

Karen Heintz

Resurrection Award: Well that rabbit looked dead to me! 2001

Jerry Parks ( finder) and Karen Heintz ( who's touch brought him back to life)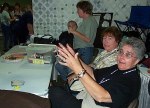 Nest Box: oops that doe was pregnant 1990

Gloria Middleton

This one was so good we had to include it

Great Turkeys: who missed the banquet 2005

Jan Coffelt:

Entering the same Blue Eyed White rabbit twice.

Grand Turkeys our highest honor.

Linda Thompson: 2005

Giving out the wrong time because her watch was up side down.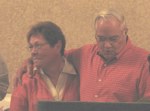 Starting in 2005 we tried something different. The winners were selected from a list nominated by NMRRC members. Their eyes and ears caught many turkeys that would other wise have been over looked. The winner had the option of picking a mystery bag from a group of 3 bags, the remaining 2 bags were auctioned off. The result was a resounding success. We haven't laughed so hard in years, Imagine Joey Schultz paying $300 for a one of a kind curly coated ceramic Rabbit!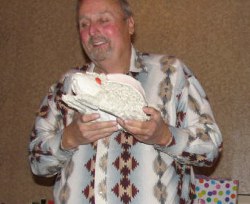 Only to donate it back with Jim Rowland taking it home and naming it "Distorted".

You must read the NMRRC newsletter to follow the escapades of "DISTORTED" .

2006

Distorted goes home with Pat Vezino for an undisclosed sum.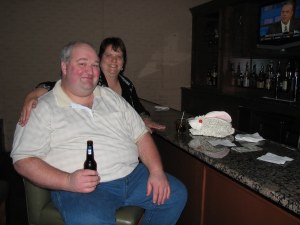 Distorted partying with one of many at the Hilton.

Doug King bought Bag #2 with a porcelain Turkey box containing the gold nuggets.


Judy Press Bought Bag #3 with gold river rocks ( Thanks Jim for your creative art work).

Runner up for Grand Turkey 2006 was our Crying Towel winner Jeremy Watmuff for failing to check the sex on his presentation Smoke Pearls.

The 2006 Grand Turkey is non other than the grand master himself Joey Schults. For failing to check the sex of his Broken Sr Doe.

For 2008 who knows what the committee will come up with. One thing is for sure Distorted has become very popular and people fight for the opportunity to be photographed with her and to have the honor of entertaining her for a year. Start saving for your chance to join the Distorted club. The Winner was deserving but shall remain nameless. Those who attended the banquet know who the winner was.